Why do we use WordPress?
We build every website on the WordPress platform—the most versatile CMS (content management system) on the planet. WordPress is easy to use and flexible enough to include just about any function. This is the primary reason for why WordPress has grown so much in popularity. According to a recent survey, WordPress powers 27% of all websites on the internet.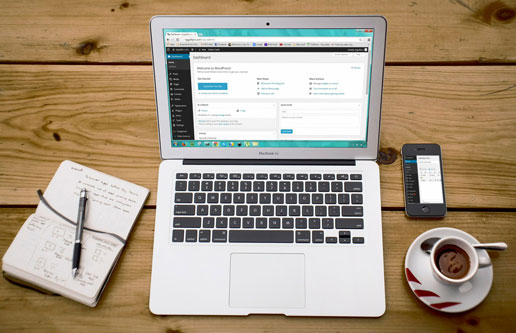 We have extensive experience building WordPress websites, integrating limitless functions. We have done it all—from basic e-commerce websites selling a few simple products, to complex systems offering hundreds of products in different colours and sizes, with thousands of variations. Features such as automated shipping, pricing rules and accounts for wholesale and distribution customers, integrated newsletters, and much more are available.
Features
Because WordPress is a widely used and supported platform, new features and plug-ins become available every day. There are now (2017 03) almost 50 000 free plug-ins and 1000's more available for purchase, offering an unlimited variety of features. It is now possible to include almost any feature you can think of, at a reasonable price.
What are plug-ins and why do we use them?
The reason we use plug-ins as opposed to building and coding a function by hand is simple—cost! Rather than spending, at times, hundreds of hours to code a function, we purchase a plug-in that is built to perform the desired feature—for a fraction of the cost. In general, paid plug-ins range in price from approximately $20-$200, a cost-effective way to add features. As with anything, however, there are factors to consider.
How many plug-ins can you include in your website?
This is often debated, our view is keep it simple (no more than you can justify needing). Although it can be tempting to add a ton of fancy features to your website, it is best to keep the number of plug-ins to few as you really need. The more plug-ins you install, the more potential there is for conflicts between them. These conflicts can generally be resolved with custom programming and coding, but this will add to both the timeline and cost of your project. Adding more plug-ins can also affect the performance of your website, as the added functions cause the system to have to work harder.
Our advice is to stick to the features you need. If your website depends on a wide variety of functions, there may be extra time and work needed to make sure they all behave well together. In our experience, even when certain conflicts need custom programming to be resolved, it is still far less expensive and time consuming than building a function from scratch.
What kinds of features can your website include?
The list is almost endless—with virtually any modern feature available, such as:
Automated shipping (connection to shipper and label creation)
Integrated inventory control
Booking calendars
Integrated accounting
Newsletters
Visual colour pickers for products
Picture zoom
Pricing rules/accounts for wholesale/distributor customers
Responsive Behaviour
With ever increasing smartphone and tablet use, a responsive website is an absolute must. This is no longer a feature that is "nice to have", it is a necessary function for any website in 2017. Every website we build is responsive.
WordPress websites, when built with a good theme, feature solid responsive behaviour. With WordPress, gone are the days of including a "mobile version" of your website. On this platform, your website is built to respond to the screen on which it is being viewed. Accordingly, the look of your website will change according to the device being used.
The Website that Grows with your Business
The WordPress platform makes adding new products or services to your website much easier. We begin by building your website with your current product offering. While your business grows and new products become available, we simply add them to your store.
Making visual changes is also easy and much faster with WordPress. Quickly change banners, advertisements, or even colours, design, and layouts without having to remake your website.
During our 20 years of experience building websites, we have come to appreciate the power of WordPress. With ever-growing possibilities, we can accomplish virtually anything.